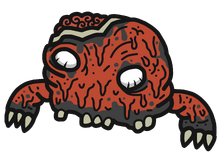 Apoptospook is a gory, rotten mass of dead cells, fitted with clawed limbs.
Behavior
It knows exactly where the player is at all times. It will chase them down relentlessly, though it does move at a slower pase for most of the pursuit.
It will slowly die as time passes, as every cell in its being slowly dies. As this progresses, it will become smaller and faster, and it at a certain threshold, it will begin to leave a decaying trail of diseased goop that will poison the player should they step in it.
Once it has reached its minimum size, its remaining mass will seep into the ground and a large puddle of goop will form. Then, over a short time period, the mush that makes up its body will reform back into shape, and it will begin the cycle once more.
Varianrts
Apoptospook
Dealing damage to Apoptospook will progress its decomposition artificially. Its health drains slowly over time and it will reach the end of its life in 75 seconds and then regenerates over 15 seconds. It gets smaller and faster as it rots away.
HP: High
Speed: Below Average to Fast
Damage: Normal
Autospook
This Apoptospook is a cyborg. It has higher health that degrades much faster, and is inactive for longer. However, while inactive, its mechanical skeleton comes online, and it is much faster and deadlier than its host. Once it has finished regenerating, it recieves a new skeleton and the old will remain in play unless it is killed. Its life lasts 60 seconds and it regenerates over 30 seconds.
HP: Very High
Speed: Below Average to Fast
Damage: Normal
Mechanical Skeleton
HP: Very Low
Speed: Very Fast
Damage: High
Armageddospook
Bringing another new gimmick, Armageddospook will be an incredible nuisance while it regenerates. Being active 75 seconds and regenerating for 15 seconds. When it is regenerating, salvos of fire will burst forth from the ground around the player, with an ominous red glow on the ground marking the future site for a flame pillar, and all the while a spooky overlay will be there.
HP: Very High
Speed: Below Average to Fast
Damage: High